All services will continue to be live-streamed on our Facebook and Website pages:

Tuesdays – Meditation 7:00 PM
Sundays – Worship service 9:30 AM
Daily Noon Devotionals
During restricted in-person gatherings, the work of the gospel continues through the ministries of Trinity.
We welcome all to partner with us.
If you are seeking a community of persons that lives their faith through service to others and the planet,
join us. Feel free to contact me with questions or available opportunities.

Love,
Pastor Tom
Covid-19 In-Person Gathering Update

During the July 16, 2020 church council meeting, ministry team leaders reviewed the rising case numbers in Kenosha County and decided to continue limiting in-person gatherings until further notice. Council will review the COVID situation again at the September council meeting to determine if it is safe to increase in-person opportunities.

This difficult decision is not what any of us like, but it is in keeping with two of our core values: love for neighbor and perseverance. We take these precautions with the hope that we are protecting one another from this dreadful virus. We will never know how our preventative actions have limited the spread of COVID-19, but we assume that council's decisions have prevented infections among our congregants and their families.

All persons entering the building must use the provided hand sanitizer, sign-in, wear a mask and practice physical distancing.

Sunday worship is live-streamed at 9:30am through our website, Facebook page and zoom. Persons may listen to the audio portion of the service by calling in to the zoom meeting. We welcome participation in the service via video and audio files. Please contact Kirsten in the office to make arrangements.

Pastor Tom offers a livestream meditation on Tuesday evenings at 7:00pm and daily devotions on our Facebook page. Music Minister, Kerri Sherwood, offers daily musical posts for your reflection.

A brief daily devotional recorded call is available to anyone who would like it, especially those members and friends who may not have internet at home. Prayer concerns may be submitted to Kathy Baas for inclusion in our prayer chain and prayers of the church.

Please reach out to any council member or Pastor Tom with questions or concerns. We continue to hold each other in prayer and look forward to the day we may fully gather in-person once again.

We are one in Christ.

Peace be with you!
Participating in God's mission of life
WELCOME TO TRINITY LUTHERAN CHURCH!
NEWS & EVENTS
You don't need another thing to do - but you might need someplace to be! (as in 'be yourself'). Join us. Come as you are. Your friends are here.
All News
All Events
---
RecEive all the latest news and updates from Trinity Lutheran Church!
Stay connected with us and get easy access to sermons, church videos, volunteer schedules, and more information about our community.
---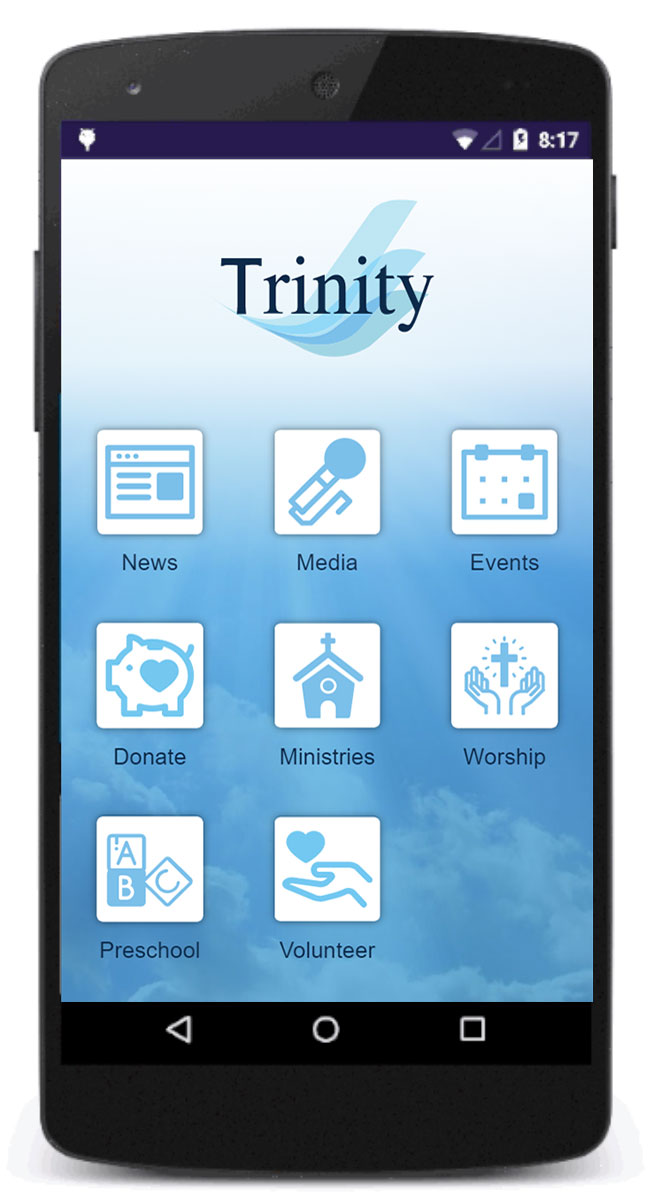 Our Mission
Participating in God's mission of life.
"...Pastor Tom said wherever Jesus went people were welcomed and healed and loved and justice happened. So now as I go about my week I look for situations where that happens and thank God for it. But I also look for where it isn't happening and think, 'how can I change that?'"
Kerri Sherwood and the Trinity Band recently played, "Good, Good Father" during our 9:30 contemporary service.
When
Sundays
8am (Tradition-rich)
9:30pm (Family-Friendly)
Memorial Day through Labor Day
2nd Thursday
(second Thursday each month)
11am (30 minute worship including Holy Communion)
---
Where
7104 39th Avenue Kenosha, WI 53142
How
Fun and casual for all ages and families
Sermons
A sermon is a special type of speech. The pastor may think he or she knows how people will hear what is said, but the Holy Spirit guides the pastor's words and the listener's thoughts in ways that deepen faith and restore hope.
All Sermons
---