PARTICIPATING IN GOD'S MISSION OF LIFE!
We are a Reconciling in Christ Church
In February 2016 Trinity Lutheran Church declared itself to be a Reconciling in Christ church
Learn More
You
YOU'RE tired of religion that judges and excludes. You wonder if following Jesus makes a positive difference not only for eternity but for the challenges confronting you (and the world) because your heart breaks for the suffering you see and you want to do something about it.
Us
We are a faith community that understands what keeps us together isn't our politics, skin color, race, sexual orientation or anything else. WE'RE HELD TOGETHER BY THE SHARED BELIEF THAT JESUS IS LORD.
God
THE TRUE Triune God is love and the source of life and God loves everyone and wants everyone AND EVERYTHING to live and God is gracious, generous, merciful and gracious (yeah. really gracious)
OUR STAFF
There aren't many of us but the staff we have is passionate about building a faith community that is life giving. We try to create space for the Holy Spirit to work so that means sometimes things go really well and sometimes things don't go as planned and the result is so amazing we know it was the Holy Spirit's doing.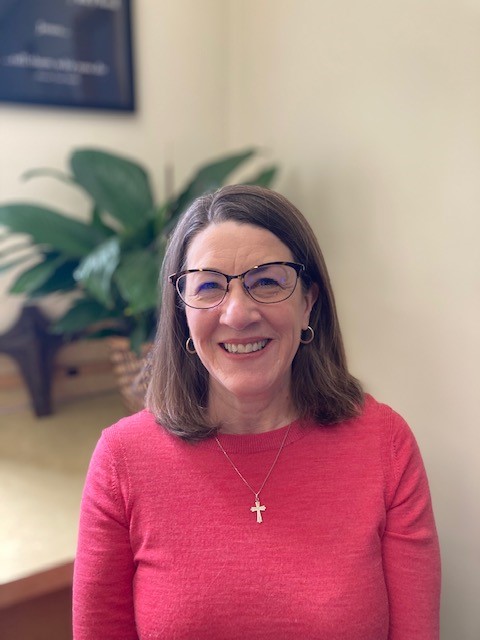 Kirsten Carson – Church Administrator
Lea Ann Taber – Preschool Head Teacher and Administrator
Mrs. Taber holds a Bachelor's degree in Elementary Education and a Master's in Administration. She has been recognized as an Outstanding Future Educator by the Indiana Dept. of Education, is a Girl Scout troop leader, and is married with 3 children. In her own words, Mrs. Taber "loves working at Trinity because of the great family involvement with a co-op preschool. Trinity's advantages include our low teacher to student ratio, tender loving care and thematic units which incorporate reading readiness skills, math, science, social studies and life values."
Want to worship with us?
"When I first attended Trinity I expected to find people all dressed up and not very friendly. I have small children so I worried how they would behave in church and how people would react. I was really nervous. But when Pastor Tom brought out his puppet 'Mike the Moose' for the children's message and the kids kept interrupting him and he smiled and joked with them, I started to relax because he seemed so relaxed. Then we did an echo prayer together and when he had the children gather around a microphone and say, 'the peace of the Lord be with you all,' I really felt at peace and knew I'd be back."